CEU Medieval Radio Podcast: Past Perfect! with Prof. János M. Bak
Duration: 56:27 m
CEU Medieval Radio proudly presents our next show on Past Perfect!, featuring Prof. János M. Bak, Professor Emeritus at the Department of Medieval Studies at CEU, Budapest as well as at the University of British Columbia. He will discuss kingship, coronation ritual, and laws in the medieval Kingdom of Hungary.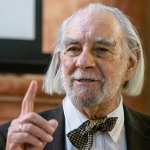 To hear the interview from the CEU Medieval Radio Page, please click here.
CEU Medieval Podcast is a collection of past episodes of the radio's weekly talk show 'Past Perfect!' and recorded public lectures presented at Central European University's Medieval Studies Department.